18+ Tourist Places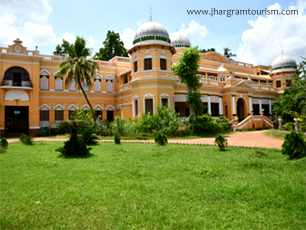 Jhargram Raj Palace
Jhargram was a kingdom founded around 1592 AD by Sarveshwar Singh who was a Generals under Man Singh of Amer and came to conquer Bengal when Emperor Akbar granted Subehdari of Bengal, Bihar and Orissa to Raja Man Singh. Sarveshwar Singh belonged to the Chauhan clan of Rajputs from Fatehpur Sikri. He defeated and vanquished the local Mal tribal kings who were ruling the region known as Junglemahal, even today in order to commemorate this victory, every year an idol of Mal Raja is made and slain on Vijayadashami day. As a reward, Raja Man Singh, granted mansabdari of the entire region of Junglemahal to his victorious generals Sarveshwar Singh Chauhan and his elder brother, under suzerainty and subordination as a tributary vassal state to the Mughal Emperor Akbar. He named his capital Jhargram which means a village surrounded by deep forests; hence the rulers of Jhargram assumed the title "Malla Deb".
Know History
Jhargram Rajbari is the current residence of the Malla Dev Royal family and a melting pot of culture, tradition, rich heritage. It is a structure combining the Italian and Islamic architecture model and about 10 rooms on the ground floor have been converted into a
Heritage Homestay
run by the family. The Palace is an opulent Italianate structure, set in carefully laid lawns and gardens which were built in 1922 CE, during the reign of Raja Narasingha Malla Dev Bahadur. In the Palace campus, so evocative of a regal lifestyle, the past comes alive. The Palatial Guest House is a part of the Jhargram Raj Palace it has been a host to several dignitaries right from its inception.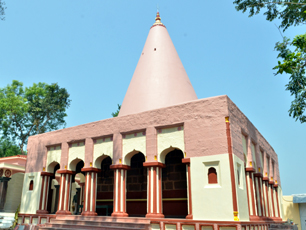 Savitri Temple
Goddess Savitri is the ancestral deity of the Malla Dev dynasty of Jhargram, she is worshipped in form of Durga. There is no specific idol kept in the temple but a stone believed to have divine embodiment of Goddess is worshipped here. The worship is strictly followed according to Puranas the ancient Hindu religious texts during the Durga Puja as Brahmins recite hymns from the scriptures from the Devi Mahatmyam (Chandi Path) for ten days from Mahalaya to Dashami followed by the Maha Aarti on Durga Ashtami the eighth day of this orthodox worship and the Ritual drummers(dhakis) carrying large drums(dhaks) to show off their skills. The rituals of the Durga Puja are still organized and performed by the Royal Family of Jhargram.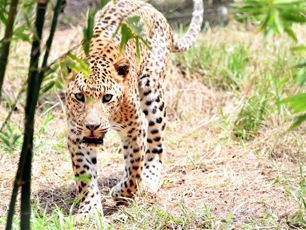 Junglemahal Zoological Park
Junglemahal Zoological Park earlier known as Jhargram Zoo has been established as a Deer Park in the year 1980, within a patch of natural forest of Jhargram Division at Jhargram. Subsequently, it was recognised as Jhargram Zoo (Small Category Zoo) on 9th September 2005 by Central Zoo Authority with the objectives of scientific management, conservation breeding of endangered species, high standard of maintenance for welfare of captive animals and also to develop empathy amongst the citizen of the area towards wildlife conservation, following the accepted norms and standard as framed by CZA. Vision of Junglemahal Zoological Park is to showcase the Biodiversity of Lateritic Eco-System.
This Park will provide rewarding experience to the visitors about the wildlife of the region. The display, care and awareness are such level to promote conservation of wildlife. This Park will endeavour to breed the endangered species for display, exchange & rehabilitation in the wild. As such the flora & fauna exist in their natural pristine glory unhindered and unaffected. At present Junglemahal Zoological Park has 147 Nos. Mammals, 65 Nos. Birds, 147 Nos. Reptiles. The total area of Park is 21.54 hactre.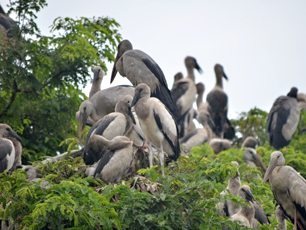 Kendua Migrating Birds
Kendua is 9kms away from Jhargram town and situated on the way to Chilkigarh. Kendua is a small village and a birding hotspot on Jhargram-Chilkigarh road. Migratory birds visit Kendua in the month of May announcing onset of monsoon and leave by November,they hatch their eggs and fly away. A walk through the Kendua village is more like a walk through the woods in a dense forest. The diversification of birds along with change of nature from time to time is mesmerizing. For a breathtaking experience in the lap of nature, Kendua village is a must visit for nature thirsty people. So don't waste another minute and visit this village right now with your loved ones. Different types of birds have been sighted at Kendua.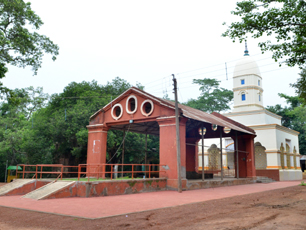 Chilkigarh Sacred Grove & Kanak Durga Temple
The Chilkigarh sacred grove is the third biodiversity heritage site in West Bengal and the twelfth site over India for conversation of biodiversity. It is a traditionally protected forest maintained on social and religious grounds, which is situated in Jamboni about 15kms from Jhargram. The grove occupies around 60 acres of land and is composed of relict forests in its near-climax stage along the east of the Dulung river. The landmass is considered sacred as it harbors the historically eminent temple of Kanak Durga, the ancestral deity of the Royal family of Jamboni and the Raj Palace of Chilkigarh. Interestingly, the Chilkigarh Kanak Durga temple complex is the largest sacred grove in West Bengal, which has not yet attracted much media attention. Additionally, the grove has protected 26 species of animals including amphibians and reptiles.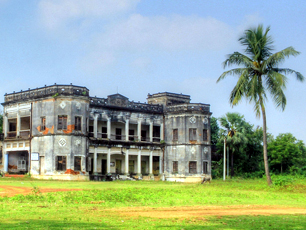 Chilkigarh Raj Palace
It is located 1.5 km away from Kanak Durga Temple and located other side of Dulung river. Jamboni Zamindari- Raja Gopinath Singh Matagaj was the last ruler of 110.63 km2 Jamboni Estate and had 4 wives Rani Govindamani Devi, Rani Champani Devi, Rani Thakurmani Devi and Rani Durgamani Devi and only one daughter Rani Subarnamani Devi through Rani Champamani Devi (married to Raja Jaganath Deo Dhabal Dev VII of Dhalbhum). He died in 1765 AD without any male heir and along with him his two wives Rani Champamoni Devi and Rani Thakurmoni Devi commited Sati with their husband. The administration of the estate devolved upon his widow senior dowager Rani Govindamani Devi who died in 1818. In the year 1822 Midnapore District Court declared Raja Gopinath Singh Matgajs's eldest grandson Rajkumar Kamalakanta Deo Dhabal Dev of Dhalbhum, through his only child as the legal heir to the gaddi of Jamboni estate and Rajkumar Kamalkanta Deo Dhabal Dev won the court case in Midnapore district court and was coronated as Raja of Jamboni in Chilkigarh, the capital of Jamboni estate. Raja Gopinath Singh Matagaja is credited to have consecrated the Gold Idol of Devi Kanak Durga in the jungles of Chilkigarh as per divine instruction. His wife Rani Govindamani Devi contributed her gold bangles towards the making of the golden idol of and hence the name Kanak Durga meaning Golden Durga.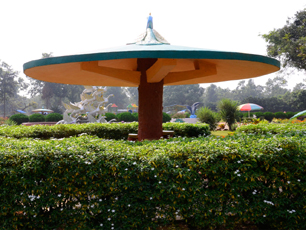 Krish Garden
Krish Garden is situated at a distance of 10km from Jhargram and 7 km from Lodhasuli (NH6) make it easily accessible for tourists. Composed of 10 acres area, this entertaining park is situated in Salboni of Jhargram and the park is open everyday from 9:00 A.M. - 5:00 P.M. For a single holiday plan, this park is just perfect and affordable. Once neglected, Jhargram has now become a wonderful destination. After many setbacks Jhargram finally gets its glory. Beautiful Sculptures, Kids' amusement, various flowers (specially rose and colorful plants) & birds, aquariums are special attractions, which make
Krish Garden
another tourist destination of Jhargram.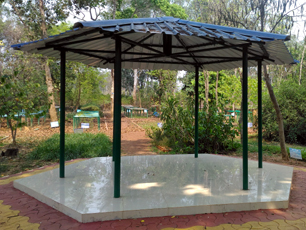 Medicinal Plants Garden
Medicinal Plants Garden is situated at a distance of 14km from Jhargram. The Amlachati site is maintained by the Divisional Forest Officer, Silviculture South Division headquartered at Midnapur. This invalucable collection of medicinal plants owes its existence to the tireless efforts of the concerned staff. The Amlachati Ex-situ conservation site in Jhargram district has huge collection of around 704 species of medicinal plants both indigenous and exotic. This might be the highest collection of medicinal plat germ plasma in a place in India. This place has attracted thousands of visitors, whichincludes tourists, school children, scholars, scientists, ayurveda practitioners, drug manufactures, etc.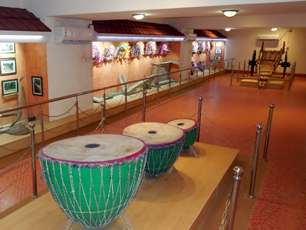 Eco-Tourism Centre & Tribal Museum
The Jhargram eco-tourism centre is about 2 km outside Jhargram Palace campus. Situated on the state highway, this beautiful forest retreat welcomes you to embrace the essence of nature. This complex also houses a tribal museum displaying the indigenous tribal culture of the district. Tribal folk performances are also held on weekends and visitors can enjoy food at the in-house restaurant.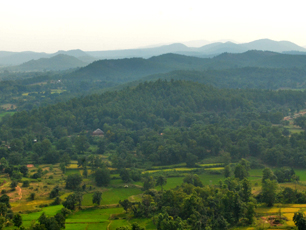 Gurrasini Hill
Gurrasini Hill is situated at a distance of 46km from Jhargram and 8km from Belpahari. Garrasini Ashram is located at the feet of the Garrasini Hill, is dotted with thick forests & mazy paths. People from various walks of life travel to this place to spend their time in serene meditation as the Ashram is a centre of spiritual gospels and practices. Inspired by the ideals of Lahiri Maharaj and Swami Yogananda the centre offers the pilgrims unique opportunity of basking in spiritual enlightenment. Every year a religious Utsab is held in the Bengali month "Agrahayan" at the Garrasini Ashram where people sit in deep meditation and enjoy the bliss of solitude. The tranquility of this place leads you to the calmness of mind. Far from the madding crowd Garrasini Hill is heaven of colorful birds which spread the message of eternal joy.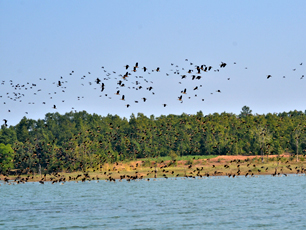 Khandarani Lake
Khandarani is situated at a distance of 49km from Jhargram and 11km from Belpahari. The myriad-faceted nature comes in its fullest magnificence when one happens to visit Khandarani water body, cuddled up in captivating forests and ubiquitous expanse of mountains. The murmuring water currents mingled with shimmering sunlight finding their way into the vast swathes of agriculture land through the Dam channels make the onlookers gaze spell-bound at the mystifying marvels of nature. This lake snuggled in the lap of pristine nature, is only 15 minutes car ride from Belpahari, is one of the most attractive places. The multi-coloured migratory birds such as Northern Pintail, Common Coot, Lesser Whistling Ducks, Cotton Pigmy Goose, Little Grebe, Pheasant Tailed Jacana, Bronze Wing Jacana, Purple Heron, Shikra, Indian Cuckoo, Indian Roller Bird, Green Bee Eater, etc. defying man-made boundaries swarm to Khandarani and spend their winter in utter abandon and rant the air with their incessant flap and flutter. The luxuriant growth of flora and foliage around Khandarani leaves one with speechless wonder.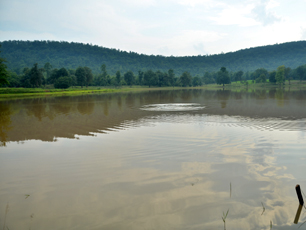 The Spring of Ketki
Ketki Lake is situated at a distance of 56km from Jhargram and 18km from Belpahari. In the hills Cherang which in the edge line of Singhadoba and Burijhor village flows the Ketaki fountains in its own rhythm. After reaching Odolchua you keep ypur feet on red soil and walk for 4kms. Walking down 7kms from Ketki lays Kakrajhor.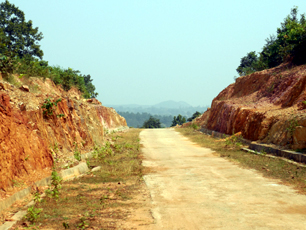 Dhangikusum & Dungri Falls
Dhangikusum is situated at a distance of 51km from Jhargram and 13km from Belpahari on way to Kankrajhor, just turn left from Chirakuti and reach at Dhangikusum View Point. Mazy paths ups and downs criss-crossing roads and wild greenery with Sal, Pial, Kendu, Simul etc. which is something memorable. Dhangikusum (locally known as Dungri) Falls is just 1km from the view point. Dhangikusum Village is popular for their stone craft and you can purchase the handicraft products.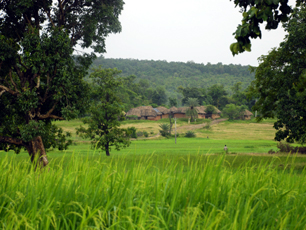 Kankrajhore Forest
Kankrajhore is situated at a distance of 61km from Jhargram and 23km from Belpahari. It is enveloped with verdant forest and amazing skyline leaves one mesmerized by the sheer chastity of nature's elegance that allures visitors by its abundant growth of woods and undulating hilly terrain. Mazy paths criss-crossing wild greenery with Sal, Pial, Kendu, Simul, Bohera, Haritoki etc. leading to Kankrajhore without even the notion of travelling a distance of 23km which is something one can cherish forever. Kankrajhore is also a familiar haunt for those who want to familiarize themselves with the unique and interesting facets of tribal lives. The teeming populace of tribal engaged in their household chores, offers the visitors a rare opportunity to have a first-hand insight into the rich cultural heritage of the tribal community. Doves of visitors have the lure of staying with the local tribes in their well-carved houses sharing their staple diet and indulging in their folklores.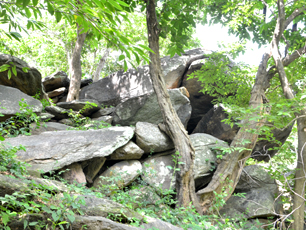 Laljal Cave
Laljal Cave lies 57km from Jhargram and 19km from Belpahari. Lalajal is a scenic mountain village. The village has Belapaharira primitive cave-men, including antiquities. Laljal was a Palio-Lithic idea before a few thousand years ago. Ancient civilization and culture was a rich field of lalajalai. Here the spring water is slightly reddish. Copper and iron mixed with water is quite tasty. Local residents say, because of the red color of the water in the name of the village lalajala. Deopahare west of the village there is a primitive cave man. Sinlahara south-eastern part of the mountain range. The village is north Ranipahara. Abahelitai witness remains a place of ancient civilization. The area is one of the great natural wonders of tourist attractions.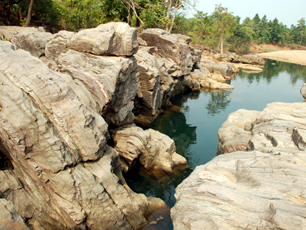 Ghagra River Rock
Ghagra River Rock lies 43km from Jhargram and 5km from Belpahari in the midst of wild greenery and rocky pedestal, is a sight of amazing beauty. The gurgling streams of Ghagra lashing against the craggy rocks offer the visitors a rare glimpse of nature's glory. Ghagra, attracts the visitors for its uncanny splendor and majestic flow of unfettered water currents. The rustic environs, enigmatic bushes and overarching rocks lend an inexplicable aura to the palace. This is the place where once the shooting of the Bengali film "Behula Lakhindar" took place. The rustic innocence of the people leaves a deep impact on the hearts of the motley visitors. During rainy season the beauty of Ghagra comes in its manifold grandeur. Hordes of people throng to the place to have impromptu picnic and get-together.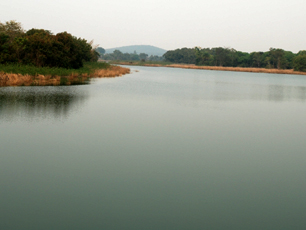 Tarafeni Dam
Tarafeni is situated at a distance of 45km from Jhargram and 7km from Belpahari. It is another attractive place where tourists get enthralled at the sight of impetuous sway of the river currents against the rocky boulders, particularly during rainy season. It is the place where the visitors gaze on the meandering currents of the river criss-crosing the zig-zag paths. This barrage is an important source of providing drinking water to thousands of the people in the area. Tarafeni River receives its share of water mainly from Mukutmanipur Dam. Its beauty becomes more sparkling when the Barrage releases surplus water from the channels and the dancing and leaping currents of water leave one wondering at the marvels of nature.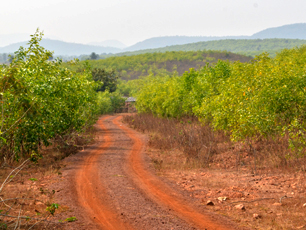 Kanaisor Hill
Kanaisahar is situated at a distance of 48km from Jhargram and 10 km from Belpahari, bordering Jharkhand is simply a sight of rugged beauty. Flanked on each side by dense forest, Kanaisahar Mountain stands out as a towering glory of nature. Overlooking villages situated at the foot hills teeming with agricultural activity and countrymen attending to their household chores, this hilly spot offers a panoramic view. A village mela is held every year in the month of July on the top of the hill. People from far and wide swarm to this place to offer worship to the mountain god. A religious festival called (PAHAR PUJO) is held for 5 days in the season of autumn by the aborigines of this area. They gather in thousands to add colours to this historic festival. In the mela colourful stalls displaying a wide range of homemade toys, articles and handicraft add to the feverish tempo to the mela. The sight of women carrying their children on their laps and old men, though weighed down by the burden of their age while climbing up & negotiating the steep slopes of Kanaisahar hill creates shivers down the spirit of the onlookers. Kanaisahar offers a rare chance of adventure as well as sightseeing.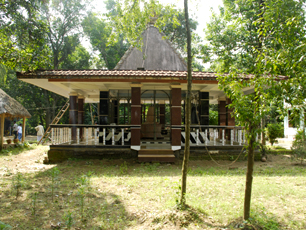 Chorchita Yogashram and Choreshwar Shiv Mandir
Chorchita Yogashram and Choreshwar Shiv Mandir is situated at a distance of 43km from Jhargram Town and 10kms from Rantua bus stop. Chorchita yogashram is established by Mahatma Shree Shree Swami Gobardhan Giri Maharaj, near about 150 years ago. Which is situated in the side of Subarnarekha River. The most powerful Mahatma's Samadhi Mandir is the main attraction of this place. The popular belief is that the Mahatma's BIBHUTI is the destroyer of all negative power. Except that a 200 years old Banyan tree, kali temple, Laxmi Narayan temple and many more medicinal plants are available there. The environment of this Ashram is so much Spiritual that everyday many people come here for there mental satisfaction and to fulfill their wish. Chorchita Choreswara Shiva Mandir is just 500 meters away from this Ashram.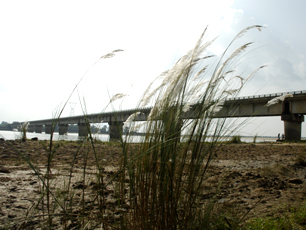 Kuthighat
Khutighat (Tourist Picnic Spot) is situated at a distance of 40km from Jhargram Town and 2kms from Rantua bus stop. Khutighat is actually the name of a river bank during the British periods, currently known as Rantua. Some saints used to live here in the past; some of them still live and have links with the saints of Rameshwar. The festival of the Goddess Kali is celebrated here. Over here you get a Guest House
Subarnarekha Anandadhara
(Under Gopiballavpur-II Panchayet Samity) at Bajnaguri, Kuthighat, Gopiballavpur which is well equipped with all the facilities. The enchanting beauty of the place leaves you with a mind out of the world.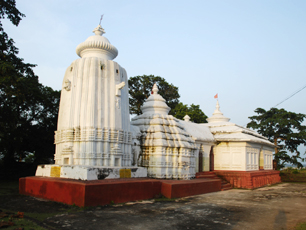 Rameshwar Temple
Rameshwar Temple is situated at a distance of 63km from Jhargram on way to Gopiballavpur towards Nayagram. The local people believe that Lord Rama king of Ayodhya once came to the banks of river Subarnarekha and established a Shivlinga to be worship in Rameshwar.It is also said that Rishi Valmiki had started writing Ramayana at the footsteps of Rameshwar Temple, the remains of the old temple are just as thrilling. A series of stone pillars stand side by side like sentinels. A new temple has come up near the ruins. It bears characteristics of the Orissa school of architecture, the shivlinga is situated deep within the garva griha.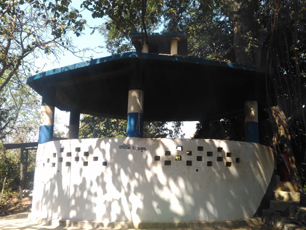 Tapoban
Tapoban is situated at a distance of 63km from Jhargram Town and 4km from Rameshwar Temple. It is a mysterious historic temple, which dates back to the mythical Ramayana days. There are different schools of thought about Rishi Valmiki's ashram in Ramayana and one of the legends say that it was right here where the dacoit Ratnakar got enlightened to sage Valmiki after a spell of tough meditation. It is also believed that Goddess Sita lived here with her two sons Luv & Kush in the ashram of Rishi Valmiki.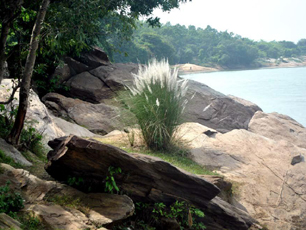 Hatibari Forest
Hatibari is situated at a distance of 62km from Jhargram Town. It is to just relax and enjoy nature you can simply spend an unforgettable weekend in the isolated jungle. Hatibari is located on the conjoint territory of the states of West Bengal, Orissa and Jharkhand and has rich wildlife. The chirping of birds in the forests of Sal, Piyal, Teak and Eucalyptus trees make the environment of Hatibari mesmerizing. Over here you get a
Hatibari Cottages
(Under West Bengal Forest Development Corporation Ltd.) which is equipped with all the facilities. The enchanting beauty of the place leaves you with a mind out of the world.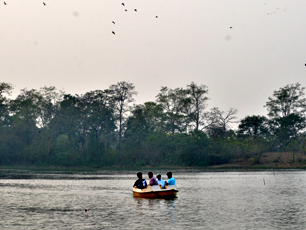 Jhilli Lake
Jhilli Lake is situated at a distance of 67km on concrete and village road from Jhargram Town via Gopiballavpur and 10km from Hatibari Cottages. You can wake up early as the sunlight is just appropriate for a great session of birding. Find yourself welcomed with the chirping/twittering by huge gangs of migratory birds in the lake. As you explore the place, find that the place contains a large water reservoir surrounded by lush greenery. Paddle boating facility is also available in the reservoir. You can use the boat to its best to sail through the reservoir and get as closer as possible to our feather friends. Around 13 species of birds have been sighted at Jhilli Lake.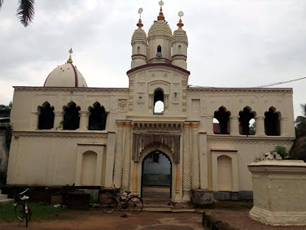 Radha Govinda Temple
Earlier this area was a part of Mayurbhanj princely state. The place was earlier known as Kashipur. Shyamananda Mahaprabhu, a prominent figure in the Vaishnava sect, was being commanded by Shrimati Radha Rani to travel and carry the holy waters of Yamuna to this place and establish a temple since then the village is named after Gopiballav (Sri Krishna). Kashipur came to be known as Gopiballavpur since then. The village houses this old temple since 1400 and its being run and administered by Vaishnava Goswami Families since then. Currently the Mahant is the head of the temple.
The temple is known as Shri Radha Govinda Mandir and known to the vaishnavas as "Gupta Vrindavan". It houses the idols of Shri Radha Govind Ji and Smt. Radha Rani along with idols of Jagannatha Mahaprabhu, Balabhadra and Subadhra. An annual Car Festival (Ratha Yatra) is held every year. Gopiballabpur also houses ancient Mahadev Temple where Gajan Mela is held every year. Besides Gajon, Chorok Mela, Snan Jatra, Jhulon Jatra are prominent festivals in the area. The chou dancers from Orissa are brought every year to give performances to audience in these fairs.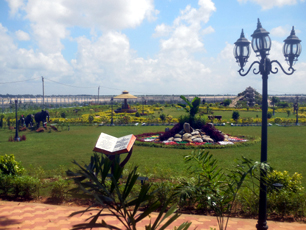 Gopiballavpur Eco Park
Gopiballavpur Eco Park is situated at a distance of 38km from Jhargram Town. A beautiful garden named 'Gopiballavpur Eco Park' along the bank of Subarnarekha River and entry tickets Rs. 10 per head.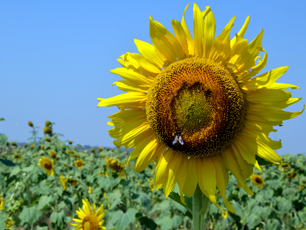 Kodopal Agro Tourism
Kodopal Eco-Nest & Biological Fruit Basket is developed delta-land at the confluence of river Subanarekha and Dulung which is situated near about 45kms from Jhargram, consisting around 200 acre of sandy fertile land. It is a pilot Agro tourism project of the Government of West Bengal, whereby the urban tourists can engage in farming activities, experience the bullock cart, tractor ride, fly kites, eat authentic food, understand the local culture, enjoy the folk songs and dance, buy fresh farm produce and in turn the farmers maintain the farm hygiene, greets new tourists, sells farm produce at a better price, earns a livelihood all year round.