Wildlife of Jhargram
Wildlife includes "Animals like mammals, birds, reptiles, amphibians and fishes and their young's and also eggs of birds and reptiles". Jhargram has a rich heritage of wildlife such as the monkey-headed Hanuman, elephant-headed Ganesh, various migratory birds, many endangered species of chameleon, different types of mongoose and many other reptiles along with scavengers like vultures, eagles, jackals, hyenas, etc. which attract the tourists in this area at a large.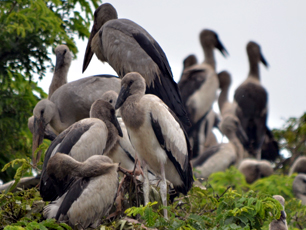 Kendua Birds Village
Kendua is a small village and a birding hotspot is situated on Jhargram-Chilkigarh road at a distance of 9km from Jhargram Town. Migratory birds visit Kendua in the month of May announcing onset of monsoon and leave by November, they hatch their eggs and fly away. A walk through the Kendua village is more like a walk through the woods in a dense forest. The diversification of birds along with change of nature from time to time is mesmerizing. For a breathtaking experience in the lap of nature, Kendua village is a must visit for nature thirsty people. So don't waste another minute and visit this village right now with your loved ones.
Around 9 species of birds have been sighted at Kendua they includes; Great Egret, Intermediate Egret, Little Egret, Cattle Egret, Indian Pond-Heron, Indian Golden Oriole, Black-hooded Oriole, Rufous Treepie.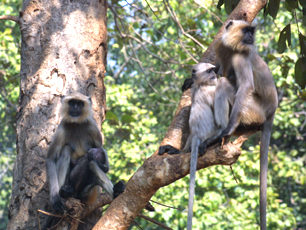 Chilkigarh Sacred Grove
The Chilkigarh sacred grove is the third biodiversity heritage site in West Bengal and the twelfth site over India for conversation of biodiversity. It is a traditionally protected forest maintained on social and religious grounds, which is situated in Jamboni about 15kms from Jhargram. The grove occupies around 60 acres of land and is composed of relict forests in its near-climax stage along the east of the Dulung river. The landmass is considered sacred as it harbors the historically eminent temple of Kanak Durga, the ancestral deity of the Royal family of Jamboni and the Raj Palace of Chilkigarh. Interestingly, the Chilkigarh Kanak Durga temple complex is the largest sacred grove in West Bengal, which has not yet attracted much media attention. Additionally, the grove has protected 26 species of animals including amphibians and reptiles.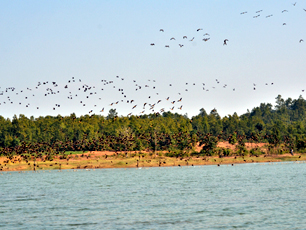 Khandarani Lake
Khandarani is situated at a distance of 49km from Jhargram and 11km from Belpahari. The myriad-faceted nature comes in its fullest magnificence when one happens to visit Khandarani water body, cuddled up in captivating forests and ubiquitous expanse of mountains. The murmuring water currents mingled with shimmering sunlight finding their way into the vast swathes of agriculture land through the Dam channels make the onlookers gaze spell-bound at the mystifying marvels of nature. This lake snuggled in the lap of pristine nature, is only 15 minutes car ride from Belpahari, is one of the most attractive places. The multi-coloured migratory birds such as Northern Pintail, Common Coot, Lesser Whistling Ducks, Cotton Pigmy Goose, Little Grebe, Pheasant Tailed Jacana, Bronze Wing Jacana, Purple Heron, Shikra, Indian Cuckoo, Indian Roller Bird, Green Bee Eater, etc. defying man-made boundaries swarm to Khandarani and spend their winter in utter abandon and rant the air with their incessant flap and flutter. The luxuriant growth of flora and foliage around Khandarani leaves one with speechless wonder.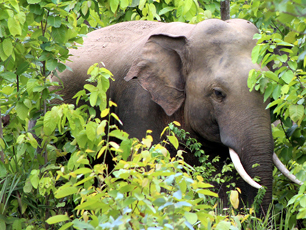 Kankrajhore & Mayurjharna Forest
Kankrajhore is situated at a distance of 61km from Jhargram and 23km from Belpahari. It is enveloped with verdant forest and amazing skyline leaves one mesmerized by the sheer chastity of nature's elegance that allures visitors by its abundant growth of woods and undulating hilly terrain.Mazy paths criss-crossing wild greenery with Sal, Pial, Kendu, Simul, Bohera, Haritoki etc. leading to Kankrajhore without even the notion of travelling a distance of 23km which is something one can cherish forever.
Mayurjharna Elephant Reserve is the only elephant reserve in Eastern India.The reserve is situated on the border of the states of West Bengal and Jharkhand and is about 70 kms from Jhargram. The area of this elephant reserve is 414.06 square km. and the nearby 1436 square kilometres of land is known as the 'Zone of Influence'. The elephant population in this elephant reserve is 118. This area was declared as an Elephant Reserve in 2002.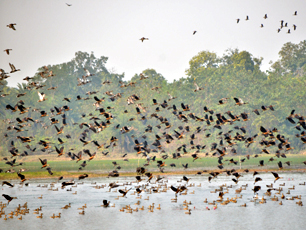 Jhilli Lake
Jhilli is located about 10 kms on concrete and village road from Jhargram via Gopiballavpur. You can wake up early as the sunlight is just appropriate for a great session of birding. Find yourself welcomed with the chirping/twittering by huge gangs of migratory birds in the lake. As you explore the place, find that the place contains a large water reservoir surrounded by lush greenery. Paddle boating facility is also available in the reservoir. You can use the boat to its best to sail through the reservoir and get as closer as possible to our feather friends.
Around 19 species of birds have been sighted at Jhilli Pakhiralay they includes; Cotton Pygmy-Goose, Gadwall, Northern Pintail, Little Grebe, Purple Heron, Little Egret, Cattle Egret, Indian Pond-Heron, Black-shouldered Kite, Eurasian Moorhen, Gray-headed Lapwing, Barred Buttonquail, Common Kingfisher, White-throated Kingfisher, Pied Kingfisher, Asian Pied Starling, Jungle Myna.