Awards & Accolades
2019 - TTF Kolkata
Travel & Tourism Fair
, Kolkata 2019 at Netaji Indoor Stadium and Khudiram Anushilan Kendra (12th-14th July 2019). Also we are proud for being a part of TTF Kolkata
(Glimpses),
the oldest show in the 9-city TTF series. 400+ exhibitors from 14 countries and 25 Indian states, 4000+ trade visitors and 6000+ general visitors participated.
2018 - Atithi Deva Bhava
2018 - IIB&B / Homestay
2018 - Guide Training Program
2016 - Science Express Train
2014 - Jangalmahal Utsav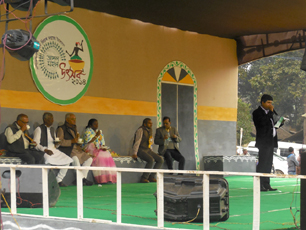 Jangalmahal Utsav 2014, a unique exhibition focusing on Tourism, Culture and Handicrafts, which has been exhibited at KKI Ground on 27th - 30th Dec 2014. We performed for the tourism discussion program in the presense of Sri Shivendra Bijoy Malladev, Sri Sukumar Hansda, MIC, MLA's of Purulia and Manbazar, Sri S. Arun Prasad, IAS, SDO, Jhargram and Somnath Mukherjee, PUP.

Affiliation & Recognition
Active Member of TAAB