OFFBEAT Activities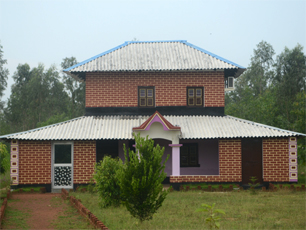 VILLAGE HOME STAY
Homestay is a popular form of hospitality and lodging whereby visitors stay in a house or apartment of a local of the city to which they are traveling. The length of stay can vary from one night to even a year and can be for free, in exchange for monetary compensation, in exchange for a stay at the guest's property either simultaneously or at another time (home exchange), or in exchange for help on the host's property. Longer term homestays are popular with students that are participating in study abroad programs. Homestays are examples of collaborative consumption and sharing. In cases where money is not exchanged in return for accommodation, they are examples of a barter economy or gift economy.
Some
Homestay
has been started @ Jhargram and Garh Salboni.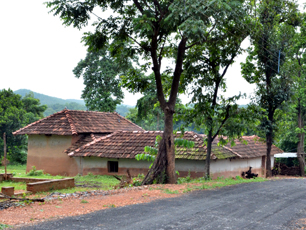 VILLAGE WALK - Hang around the village and observe Typical Tribal's rural life.
After dispensing with the room boy - done in after lugging your bags - you walk around the village. A walk around the village is a great way to enjoy solitude and wham! it really touches you. You will either gaze at the perfect village lifestyle, their hospitality in stunned silence or chatter endlessly at them, depending upon your disposition. More to it, the view around you is so riveting, so ideal place for people seeking peace, recluse and also adventures.
Community Services
Tourist may involve themselves in community services like awareness generation on healthcare, career counseling to the students, cleanliness and sanitation issues etc by conducting drives in the village with the help of local Community Based Organizations (CBO'S).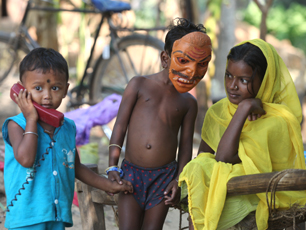 Tribal House
A hut is a primitive dwelling, which may be constructed of various local materials. Huts are a type of vernacular architecture because they are built of readily available materials such as wood, snow, ice, stone, grass, palm leaves, branches, hides, fabric, and/or mud using techniques passed down through the generations. A hut is a shape of a lower quality than a house (durable, well built dwelling) but higher quality than a shelter (place of refuge or safety) such as a tent and is used as temporary or seasonal shelter or in primitive societies as a permanent dwelling. Huts exist in practically all nomadic cultures. Some huts are transportable and can stand most conditions of weather.
Local Language Learning
Santali (Tribe of Jhargram) languages or even arrangement can be made to interact with the local school students (share your experiences) with them.
Agricultural Activities
Observe and experience traditional method of Cultivation with ploughing the field / Paddy Planting (Dhaan Ropai), during June-July & harvesting during November-December. Farm-work, (e.g., feeding cattle, milking cow, collecting firewood etc)
Date Palm Jaggery Making
Sweet date palm juice and molasses are one of the most awaited products of winter in Jangal Mahal. During winters a group of people, known as "gachhi", employ themselves to extract the juice from date palm trees. A gachhi cuts a part of a date palm tree and then fixes a bamboo pipe there to collect juice. The juice flows through the pipe into an earthen pot throughout the night and is collected the next morning. The juice is either sold raw or molasses is prepared from it.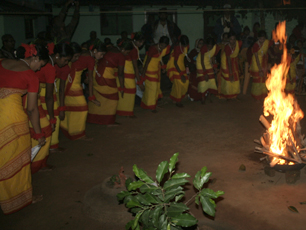 Catch and Release Fishing
This is an increasingly popular practice among many anglers. It is quite common for fishers with a strong conservation commitment to release fish that they could legally keep. Village Pond is an ideal place for fishing, which has led fishing a common activity among locals. Enjoy the day with Catch and Release fishing.
Traditional Cultural Program
Village people are by nature music lover. Every evening traditional cultural programme is presented to the tourist to entertain them. Among this, the most popular being Tribal dance and Mundari Panta Dance. To meet up local's demand of traditional music and song we have Juhari, to entertainment them.